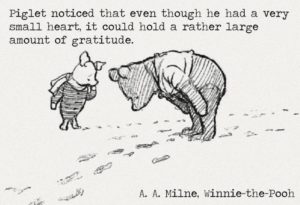 Dear Families,
November is a time for gratitude, and I am thankful for you!
Next week, Walnut Square is excited to celebrate Turkey Tuesday!  There is a school wide craftivity planned, and I'm so excited to wear my turkey outfit and my turkey earrings!  On Wednesday, November 22nd, there will be an early release day, and dismissal is at 11:35 am.  As we prepare to take time off from school Thursday, November 23rd and Friday, November 24th for the Thanksgiving break, I am grateful for everyone who has helped the routine for showing up to school while supporting students and families.
Daily routines are essential for reducing stress and creating a sense of security for students and adults.  Please take steps to keep your child healthy and send them to school unless they are truly sick.   Every day of school is an important opportunity for students to learn as well as connect to peers and their teachers.
I would like to thank:
Our students and their families who do their best to show up to class every day even when it isn't easy.
Our teachers who have gone above and beyond to help make school a welcoming learning environment where students can thrive.
Our support staff who provide the extra hands and attention our children need while ensuring a healthy and safe environment for all.
In PTO MATH-A-THON news, notices have been sent home this week with the number of correct problems.  All collected pledges and flat rate donations are due by Friday, December 1st. 100% of all proceeds collected will go directly to the PTO to help fund school activities and goals!  PTO has also partnered with Cottage Gardens for a holiday fundraiser to order wreaths, kissing balls, and/or poinsettia.  50% of the profits will go to the Walnut Square PTO.
More information about the PTO can be found by clicking here.  
Thank you to all who have completed the Fall Family Feedback Survey.  More than half of our families have completed it!  A paper copy was sent home, or you can complete it by clicking on this link:  https://forms.gle/ebED3Hgycace1FUS8.  If you haven't completed it yet, please consider completing the brief survey.  Your input is very much appreciated and valued.  This survey is shared with staff, Site Council, and PTO, and your feedback is important!
Our school nurses have started vision and hearing screenings. Parents will be notified if the student does meet the school criteria.  If you have any questions, please contact Nurse Helene or Nurse Jillian. 
As with all family updates, this will be posted on our school website, https://walnutsquare.haverhill-ps.org/ and sent to you via School Messenger and Remind.  In addition to the Walnut Square School website, you can also "like" our Facebook page, Walnut Square Elementary School, follow us on Instragram, @walnutsquaresuperstars, and/or follow my channel on YouTube, @jenrubera, to get updates and see all of the fun and learning taking place at Walnut Square!   Please contact me if you have any questions.   Thank you!  
 Sincerely, 
Jen Rubera 
Principal
District and Community Updates and Resources
Attendance Matters- Showing Up Together!   
PTO News
The Walnut Square PTO is kicking off our Math-a-thon fundraiser, and we need your help and support to make this a successful event.  100% of the proceeds from this fundraiser will benefit Walnut Square School activities.  Additionally, this fundraiser allows students to play an active role in the process!  This fundraiser promotes math skills while building students' self confidence.  
Each student will be given a Math-a-thon information letter and a pledge sheet.  Students can gather pledges per problem or a flat rate donation.  We encourage students to only ask family members, close neighbors, close friends, or family coworkers for pledge support.  
Students can collect pledges and donations.  All collected money should be returned to school by Friday, December 1, 2023.  
Thank you for your help and support to make this a successful fundraiser!  
PTO has also partnered with Cottage Gardens for a holiday fundraiser to order wreaths, kissing balls, and/or poinsettia.  50% of the profits will go to the Walnut Square PTO.  Order forms went home with students this past week.  Please look for them in your child's folder.
For more information about the PTO, please click here.  
Mark Your Calendar!
Tuesday, November 21st:  Turkey Tuesday
Wednesday, November 22nd:  Early Release Day (Dismissal is 11:35 am) 
Thursday, November 23rd:  NO SCHOOL Thanksgiving 
Friday, November 24th:  NO SCHOOL Thanksgiving Break 
Monday, November 27th;  Haverhill Fire Department Fire Safety Presentation Grades 1 and 2 
Wednesday, November 29th:  Grades Close Trimester 
Wednesday, November 29th: PTO Meeting (5:00-6:00 pm) and Site Council Meeting (6:00-7:00 pm)  **Both are held on Google Meet