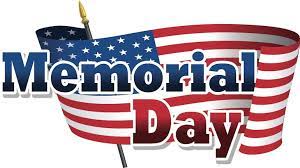 "We cherish too, the Poppy red
That grows on fields where valor led, 
It seems to signal to the skies
That blood of heroes never dies."  
-Moina Michael 
Dear Families,
We had an exciting week here at Walnut Square with fun activities planned with our alphabet calendar!  Students also had an in-school field trip with Curious Creatures!  Thank you to the PTO for sponsoring this amazing experience!  Please check out the snapshots in the Walnut Square News broadcast on Tuesday!  There is no school on Monday, May 29th in observance of Memorial Day.  
We are so excited about our Spring concert on Friday, June 2nd at 1:30 pm!  In an effort to allow dismissal procedures to run as smoothly as possible, a notice will be sent home next week to be filled out and returned to your student's teacher.  We ask that parents/guardians please do not dismiss students early and wait on the playground until 3:15 to pick up their students if they choose to be a parent/guardian pick up on Friday, June 2, 2023 following the spring concert to allow a safe and timely dismissal for all students.  
As the warmer weather is here, please remember to send your child to school with a water bottle.  We have water bottle filling stations.  We have been using over 100 cups a day and would like to conserve them!  Thank you for your help with this!  
As the year winds down, it is time to return all library books.  Please send them to school with your child.  Thank you for your help with this!
In Walnut Square news this week, anchors Julie, Jeremiah, and Lorenzo were hosts.    To view the broadcast, please click on this link: https://www.youtube.com/watch?v=ukWpNTuJbjU.   Our next broadcast will be released on Tuesday, May 30th.  
Students took the Reading iReady Diagnostic this week and will take the Math diagnostic next week. The i-Ready Diagnostic is an adaptive assessment that adjusts its questions to suit your child's needs. Each item a student receives is based on their answer to the previous question. For example, a series of correct answers will result in slightly harder questions, while a series of incorrect answers will yield slightly easier ones. The purpose of this is not to give your child a score or grade but to determine how to best support their learning and communicate growth.  Please see the schedule below to see when your child will take the assessment.  Copies of their fall and winter growth were sent home today; if you have any questions, please contact me. 
To help prepare your child for the i-Ready Diagnostic, encourage them to: 
Thank you to the families who have completed the Walnut Square Feedback survey.  Families, your feedback is important, and I'd like to share the link to complete the Spring Family Feedback Survey.  This is shared with Site Council, staff, and PTO to prioritize needs at Walnut Square.  A paper copy went home with students last week, or you may complete it on online.    To complete the survey, please click here.  Thank you for your help!
As with all family updates, this will be posted on our school website, https://walnutsquare.I-ps.org/ and sent to you via School Messenger and Remind.  In addition to the Walnut Square School website, you can also "like" our Facebook page, Walnut Square Elementary School, and follow us on Instragram @walnutsquaresuperstars to get updates and see all of the fun and learning taking place at Walnut Square!   Please contact me if you have any questions. Thank you for your continued partnership in your student's learning.
Sincerely,
Jen Rubera
Principal
---
PTO News 
Our PTO has been working hard to fundraise and support enrichment opportunities at Walnut Square!   You can view information here:
https://walnutsquare.haverhill-ps.org/pto/
---
Mark Your Calendar!
---
HPS/Community Events: