Dear Families,
We are so excited our Alphabet Countdown began on Wednesday, May 17th!  We appreciate everyone's hard work and commitment to our school community.  Every day of school is an important opportunity for students to learn as well as connect to peers and their teachers.    Teachers continue to support student learning, and students have persisted to keep learning and stay engaged.   This will continue throughout the alphabet calendar until Z day when we ZOOM out for summer!  
As the warmer weather is here, please remember to send your child to school with a water bottle.  We have water bottle filling stations.  We have been using over 100 cups a day and would like to conserve them!  Thank you for your help with this!  
Students will be taking the iReady Spring diagnostic assessment in both Reading and Math.  The i-Ready Diagnostic is an adaptive assessment that adjusts its questions to suit your child's needs. Each item a student receives is based on their answer to the previous question. For example, a series of correct answers will result in slightly harder questions, while a series of incorrect answers will yield slightly easier ones. The purpose of this is not to give your child a score or grade but to determine how to best support their learning and communicate growth.  Please see the schedule below to see when your child will take the assessment.  Copies of their fall and winter growth were sent home today; if you have any questions, please contact me. 
To help prepare your child for the i-Ready Diagnostic, encourage them to: 
The Covid Protection Act is ending and you may lose health care coverage with MassHealth if you do not follow the redetermination process.  A flyer about this went home with students.  If you have any questions about this, please contact our Family Engagement Nurse, Tiffany Bell.  Here is her contact information:  Phone: 978-420-1942 Fax: 978-274-1961  Email:  tiffany.bell@haverhill-ps.org
Field day is scheduled for Thursday, June 15th with a rain date of Friday, June 16th beginning at 1:30 pm until around 2:45 pm, and we'd like  you to volunteer to help run the amazing stations Mr. Barnard has planned!  All volunteers should plan on arriving at 1:15 PM.  Only volunteers will be allowed to attend this event and must have an active CORI on file.  
If you'd like to volunteer, please sign up here.   Please click here to view the flyer.  
Field Day English:  https://docs.google.com/document/d/138dC2uE3FiMGiAVHoTQN4zhUKVn_2NsTGF3S0PLFqvQ/edit?usp=sharing
Field Day Spanish:  https://docs.google.com/document/d/1VM8J2C_D6_yPefscrCUDMJw2U9V03Tjnj2GToGrX5x0/edit?usp=sharing
Thank you to the families who have completed the Walnut Square Feedback survey!  We have 58 responses!  The grade that has the most completed surveys will get a surprise!  Here are the results so far: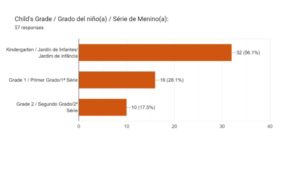 There is still time to complete the survey!  Families, your feedback is important, and I'd like to share the link to complete the Spring Family Feedback Survey.  This is shared with Site Council and staff to prioritize needs at Walnut Square.  A paper copy went home with students last week, or you may complete it on online.    To complete the survey, please click here.  Thank you for your help!
In Walnut Square news this week, anchors Adeline, Ciara, and Kai'den were hosts.    To view the broadcast, please click on this link:  https://www.youtube.com/watch?v=x0sdjeNk-Ks.   Our next broadcast will be released on Monday, May 22nd.  
Kindergarten registration has opened!  Please click here to learn more and to register your child!  HPS Registration is also hosting a Kindergarten information night on May 23rd at Pentucket Lake if you're interested in learning more!   
As with all family updates, this will be posted on our school website, https://walnutsquare.I-ps.org/ and sent to you via School Messenger and Remind.  In addition to the Walnut Square School website, you can also "like" our Facebook page, Walnut Square Elementary School, and follow us on Instragram @walnutsquaresuperstars to get updates and see all of the fun and learning taking place at Walnut Square!   Please contact me if you have any questions. Thank you for your continued partnership in your student's learning.
Sincerely,
Jen Rubera
Principal
iReady Rockstars
Walnut Square Superstars continue to use iReady in their daily Reading and Math  lessons.   I wanted to take a moment to acknowledge the progress our students are making in i-Ready Personalized Instruction! This week, many students completed 30 or more minutes of Lesson Time-on-Task in either Reading or Mathematics!  This is great progress toward our weekly goal of 30–49 minutes of Lesson Time-on-Task.  Congratulations! Click here to see our iReady Rockstars!   I would also like to congratulate students for working so hard on ST Math- Mrs. O'Leary's class is winning the challenge, but it's still anyone's game!  
PTO News 
Our PTO has been working hard to fundraise and support enrichment opportunities at Walnut Square!   You can view information here:
https://walnutsquare.haverhill-ps.org/pto/
Mark Your Calendar!
HPS/Community Events: