"Each person is special- so UNIQUE are our minds.  This world needs YOUR ideas.  It takes brains of ALL kinds!"  – from The Girl Who Thought in Pictures by Julia Finley Mosca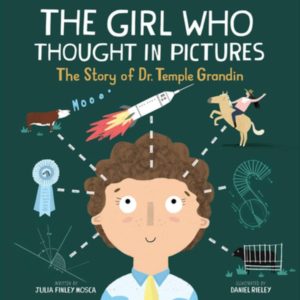 Dear Families,
Four more days until Spring Break, and Walnut Square will be celebrating with a spirit week!  The theme is Autism Acceptance, a time for acceptance and celebration of neurodiversity.  We hope you'll celebrate and participate with us!
Monday, April 15th: Pokemon Day

Satoshi Tajiri, the creator of Pokemon, is autistic.  He used his unique perspective to create the world of Pokemon.  To celebrate his work, dress up as your favorite Pokemon character, create your own character, or wear yellow.

Tuesday, April 16th: Hats off to Autism 

Love and acceptance go a long way.  Wear a hat to show your support and acceptance of autistic individuals!

Wednesday, April 17th:  What's Your Passion Wednesday? 

One characteristic of autism is to show incredibly focused passion for topics of interest.  What are you passionate about?  Dress up to show something you love!  

Thursday, April 18th:  TEAM Thursday- Together Everyone Accomplishes More

– Wear your favorite sports team or sports shirt.  
Walnut Square is selling its cookbook!  If you haven't ordered a copy, we are accepting orders until Thursday, April 14, 2022.  Please click here for the order form in English and Spanish.  
The PTO page on the Walnut Square School website has all updates and information about our amazing PTO.  We are always looking for new members!  Our next meeting will be Tuesday, April 26th at 3:20 pm.  National Junior Honor Society members from middle school will be available for childcare during the meeting.  We hope the change in time will be more convenient for families to attend!  
HPS Registration is OPEN!  Kindergarten Registration for 2022-2023 opened on February 1st and families are welcome to begin completing the registration applications for enrollment.  The next Kindergarten session will be Wednesday, April 13 6pm-7:30pm at Bradford Elementary School.  Please click on the link to view the flier in English or in Spanish.  
There is going to be a final meeting for Rebuild Consentino scheduled for April 13th.  Please click here to view the flier.  
As the weather gets warmer, absences spike in the weeks before and after the April spring break as families squeeze in a few more days off.  We know that just a few missed days here and there, even if they're excused absences, can add up to too much lost instructional time. This is as true in kindergarten as it is in high school: too many absences can affect a student's chances for academic success and for graduation.
Right up until break starts and on the first day back, our teachers will be teaching, and our students will be learning. You can help us convey that message. This spring season, give your children the gift of reaching for their hopes and dreams and the habit of school attendance. 
If your family or your child need support, please call us at (978) 374-3471 for help.

As long as your child is healthy, please encourage showing up to class when school is in session. Every day of school is an important opportunity for students to learn as well as connect to peers and their teachers.  
For other resources and information about Walnut Square, please go to https://walnutsquare.haverhill-ps.org/.   In addition to the Walnut Square School website, you can also "like" our Facebook page, Walnut Square Elementary School, and follow us on Instragram @walnutsquaresuperstars to get updates and see all of the fun and learning that happens at Walnut Square.  
Sincerely,
Jen Rubera, Principal
Here are other updates for the week:  
Mark Your Calendar!
Wednesday, April 13th 6pm-7:30pm at Bradford Elementary Kindergarten Information Session

 
Wednesday, April 13th:  Rebuild Consentino Meeting 6:00 pm English; 7:00 pm Spanish

Please click here to view the flier.  

Friday, April 15th:  NO SCHOOL

 

Monday, April 18th-Friday, April 22nd:  NO SCHOOL Spring Vacation 

Tuesday, April 26th:  PTO Meeting after school at 3:20 pm.  

Thursday, April 28th:  Site Council 4:30 pm in person at Walnut Square 

Friday, April 29th:  K-8 Progress Reports Issued 3rd Trimester 
HPS and Community Updates:  
 Student Supplies
Please send your child to school with the following supplies:  
Water bottle (to refill at our water bottle station)

Extra change of clothes (can be kept in backpack)