Dear Families,
Winter Spirit Week starts Monday!  We are so excited for a fun week of activities and learning!  We are also excited for a visit with a special guest!  Click on the link below to read the flyer:  English/Spanish Flyer      Portuguese/English Flyer 
The HPS OT and PT department has compiled a list of many great gifts for students that help to develop skills. Here is a list of ideas from our Physical Therapists and Occupational Therapists.     Gift Ideas Spanish 
Our Superstars are hosting a drive to collect toiletries for one of our community organizations, the Veterans Northeast Outreach Center.  Please click on the flyer to see requested items.  We will be collecting items until December 23rd and hope you can help! Toiletries to Donate Flyer English and Spanish  Toiletries to Donate Flyer 
A fun family event that is also a fundraiser for the Walnut Square PTO is the Holiday Light Drive Thru Show!  How does it work? Use the included link, choose the date that WORKS BEST FOR YOU ( Now- December 30th), get your hot cocoa ready and let the holiday lights make your spirits bright! $2 per car will be donated to the Walnut Square PTO.   Visit https://bit.Ly/3guyYly today to buy your tickets!  
Walnut Square Superstars continue to use iReady in their daily Reading and Math  lessons.   I wanted to take a moment to acknowledge the progress our students are making in i-Ready Personalized Instruction! This week, the following students completed 30 or more minutes of Lesson Time-on-Task in either Reading or Mathematics!  This is great progress toward our weekly goal of 30–49 minutes of Lesson Time-on-Task.  Congratulations!
30 + Minutes iReady Reading:  
Kindergarten:  Kenny, Jaire, Vincent, Aavya, Seanna, Logan, Lyla, Juliana, Hazel, Rosalyn, Elias, Gabriel, Kora 
Grade 1:  Brielle, George, Paxton, Leah, Jairo, Yanalia, Jozias, Jaeliz, Lorenzo, Skarlett, Amaris, Hamida, Mikayla, Bella, Toby, Shawn, Genesis, Nicholas, Lina, Cameron, Maddison, Vivienne, Addyson, Grayson, Julie, Kameron, Armanie, Olivia, Sophia, Nathan, Jaylese, Zoey, Mayalis, Sebastian, Scarlett 
Grade 2:  Hayley, Bennett, Lani, Allen, Emmitt, Jacob, Abigail, Jacob A., Nadia, Jeremiah, Jaylen, Kevin, Kai'den, Gavin, Jadeline, Kai, Jacob K, Ethan 
30 + Minutes iReady Math:  
Kindergarten:  Charlotte, Parker, Elias, Fadil, Joseph, Gabriel, Arianna, Nubia-Jhene, Joshua P., Kinsley, Emma 
Grade 1:  Shawn, Genesis, Nicholas, Lina, Cameron, Maddison, Vivienne, Addyson, Grayson, Julie, Kameron, Armanie, Olivia, Sophia, Nathan, Jaylese, Zoey, Mayalis, Sebastian, Scarlett, Jazlyne, Hamida, Jaeliz, Helen, Jaisaac, Yanalia, Skarlett, Mikayla, Jairo, Brielle, Bella, George, Paxton, Leah, Jozias, Amaris, Toby
Grade 2:  Gavin, Kai, Elise, Lily, Ethan, Avery, Avian, Adilaya, Cian, Jackson, Evan, Maxwell, Allen
Walnut Square Superstars are learning and growing every day.  An important part of their daily lessons is developing oral language.  Oral language is the precursor to written language.  Oral language allows students to perform a number of skills that are critical to further stages of literacy development.   It is vital for students to engage and participate effectively in a range of conversations with diverse partners.  Through collaboration with others, students develop proficiency with comprehension and presentation of knowledge and ideas. One way to help students is to give them sentence stems.  Here is a picture of a poster used with grade 1 students here at Walnut Square to help them: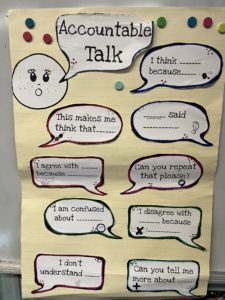 At Walnut Square, we have a closet with extra clothes for students.  We are in need of the following items: packages of new underwear size 4-8, socks, and unisex clothing, sized 4-8.  If you would like to donate any of the items, please bring them to school. 
As with all family updates, this will be posted on our school website, https://walnutsquare.I-ps.org/ and sent to you via School Messenger and Remind.  In addition to the Walnut Square School website, you can also "like" our Facebook page, Walnut Square Elementary School, and follow us on Instragram @walnutsquaresuperstars to get updates and see all of the fun and learning taking place at Walnut Square!   Please contact me if you have any questions.  Thank you!  
Sincerely, 
Jen Rubera 
Principal
Mark Your Calendar! 
Walnut Square Winter Spirit Week:  December 19th-23rd 
Monday, December 19th:  Mitten Monday
Tuesday, December 20th:  Gingerbread Day 
Wednesday, December 21st:  Winter Wonderland Wednesday
Thursday, December 22nd:  Sweater Weather Thursday 
Friday, December 23rd:  Hibernate Friday **Friday is a half day.  Dismissal is at 11:35 am.  Thank you!